Posted in
Uncategorized
on May 23rd, 2019 by admin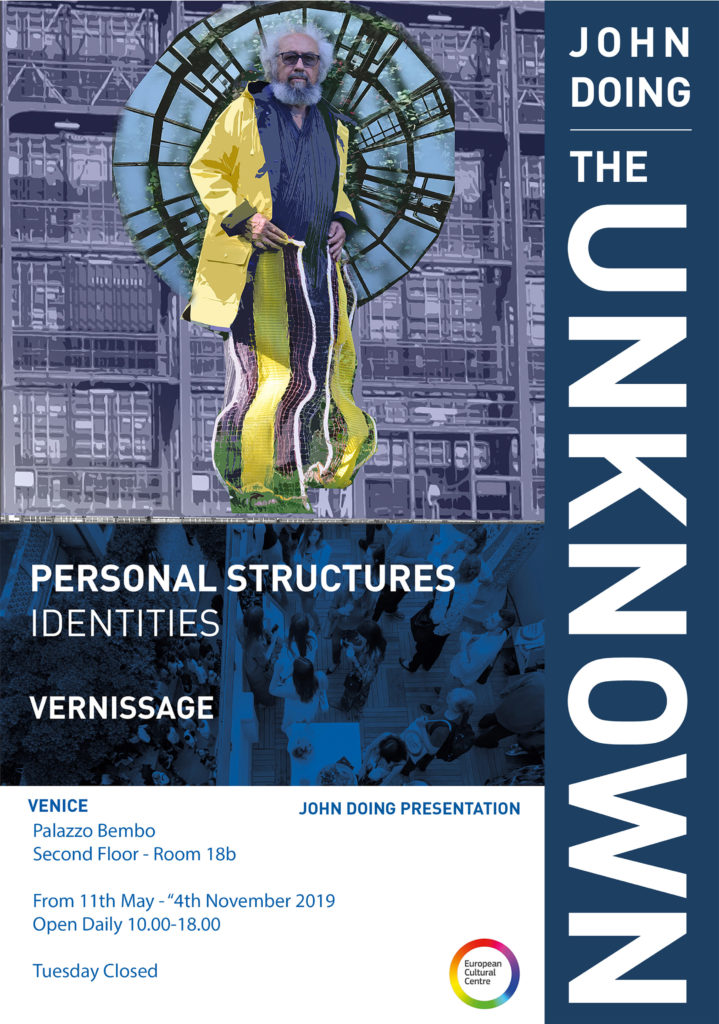 The Unknown
What is the unknown?
The unknown is what asks to be explored, in all possible encounters. Since, however small and humble they may seem, they could be the unanticipated yet decisive granules of the research. They can be found anywhere, anyone can leave traces of them, inadvertently or not.
The results of this journey take the form of a product: a painting, a sculpture, a video, a ceramic piece, an installation.
Such items contain messages which are unexpected and unintentional, hidden until the very end even to their author.
Will they be perceived in a different way by the viewers? That is again the unknown.
John Doing
Currently based in Lugano, he travelled extensively for business in the Far East since an early age. During these trips, he kept cahiers of voyage where he captured his impressions in watercolor images. Merging such experiences which his Italian background, immersed in classical culture and myth, he expresses his memories and dreams of beauty through multiple means.
His visions live in the threads of masks moved by the breeze, in painting on different sorts of paper, in the clay pieces enameled in raku, and in the digital production of videos and printed images, collages of ordered elements found in the Library of Babel.
Using materials to leave traces of an immaterial wisdom learned during his long voyage.
Ignoto
Cosa è l'ignoto?
L'ignoto è ciò che chiede di essere esplorato, in tutti i possibili incontri che facciamo. Per quanto piccoli e umili possano sembrare, potrebbero essere i granelli inattesi ma decisivi della ricerca. Possono essere trovati ovunque, chiunque può lasciare tracce di essi, inavvertitamente o meno.
I risultati di questo viaggio prendono la forma di un prodotto:
un dipinto, una scultura, un video, un pezzo di ceramica, un'installazione.
Tali elementi contengono messaggi che sono inaspettati e non intenzionali, nascosti fino alla fine anche al loro autore.
Saranno percepiti in modo diverso dagli spettatori? Questo è di nuovo l'ignoto.
John Doing
Attualmente basato a Lugano, ha viaggiato molto per affari nel lontano oriente fin dalla tenera età.
Durante questi viaggi, avrebbe mantenuto i cahiers de voyage, catturando le sue impressioni in immagini ad acquerello. Unendo tali esperienze con il suo background italiano, immerso nella cultura e nel mito classico, esprime i suoi ricordi e i suoi sogni di bellezza attraverso molteplici mezzi.
Le sue visioni vivono nei fili di maschere mosse dalla brezza, in dipinti su diversi tipi di carte, nei pezzi di argilla smaltati in raku, e nella produzione digitale di video e immagini stampate, collage Usa i materiali per lasciare tracce della saggezza immateriale appresa durante il suo lungo viaggio.